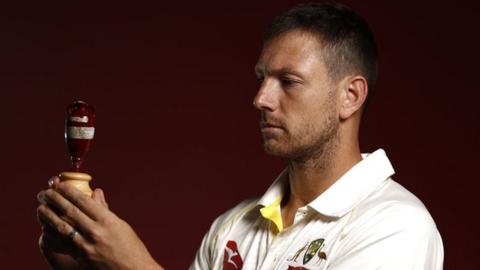 Not many interviews are conducted with an 11-month-old baby girl present.
But, given that James Pattinson had come to talk about his family history, it was apt that his daughter Lilah was rolling around on the floor of a Leeds hotel, being entertained by Australia's media manager.
Born in Melbourne to a father from Grimsby and a mother from just outside of Barnsley, Pattinson could have played for England. His brother Darren infamously did just that, for one Test back in 2008.
James was also asked to wear the Three Lions, rather than bowl fast for Australia, when England toured down under in 2010-11. Even though he declined, the 29-year-old still has fond memories of the family returning to live in Cleethorpes when he was aged five.
"They were pretty good times," he said.
"My brother worked on the docks as a fishmonger. Mum would collect me from school and we'd pick him up on the way through. I remember him in a white outfit and the boots, stinking of fish, and every day I'd be spewing out of the window because I couldn't handle the smell.
We lived in one of those skinny houses. One day I was playing upstairs and I looked out of the window and saw dad's red 'ute driving down the street. I looked behind me and dad was there.
"I said: 'dad, what's your car doing driving down the street?' He was like 'what? Are you kidding me?' Someone had gone around the back into our garage and nicked it. At the time, dad thought it might have been his boss during an insurance job. We still don't know."
This was the mid-1990s. Pattinson remembers playing Pogs and getting into scrapes for being the only kid in Cleethorpes with an Australian accent.